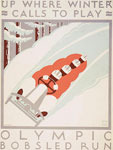 Thu 19 2012
The 2012 Summer Olympic Games begin on July 27 and continue through August 12. London hosts them this time, but in the past, the U.S. has hosted the Olympics eight times (four times in the summer and four in the winter), the most of any country! The U.S. also holds the greatest number of Olympic medals of any nation—more than 2,500.
What place have the Olympics had in U.S. history? The games can be many things: a focus for cultural exchange, a showcase for new technology and development, an economic boon (or bust), and a platform for international political tensions. Explore the history of the Olympics with these ideas:
Whether you use the Olympics to explore cultural and technological change, international politics, local history (if you're lucky enough to live in one of the U.S. cities that hosted the Olympics!), or any of the many other rich angles possible, take advantage of this opportunity! Though school may not be in session for you right now, investigating Olympics history can lead to primary sources and historical connections you can weave into your curriculum.
For more information
Teaching with sports history doesn't have to stop with the Olympics! Sports can help students connect to history and see how many different forces contribute to a person's life or a historical event. Browse our Website Reviews for sports-related primary sources, take a quiz on sports history, or watch historian Pellom McDaniels III connect athlete Jackie Robinson and Martin Luther King Jr. using primary sources.