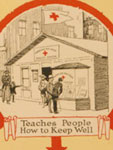 Tue 10 2012
Health and healthcare are big news in the present-day U.S. Pick up any newspaper, and you'll find articles on aging, obesity, medical research, food quality—or the Patient Protection and Affordable Care Act, the Obama administration's health care statute recently upheld in the Supreme Court. As emotions and opinions on health continue to fly in the months leading up to the 2012 presidential election, your students may have questions about the history of health in the U.S.
Point them toward our History Quiz Archive! Our quizzes on health can answer some questions—and raise others:
For more information
For primary sources on medical science, public health, disease, and more, browse our reviews of more than 80 websites featuring resources on the history of health and medicine.