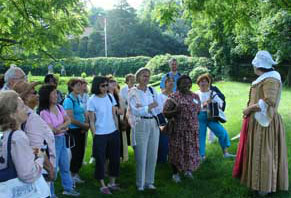 Sun 29 2009
Just to help jumpstart the post-Thanksgiving return to routine, here's what's happening at a few of our favorite history venues.
In the November 2009 issue of Perspectives from the American Historical Association, TAH Director and visiting professor Elise Fillpot offers suggestions and asks leading questions about teaching history in elementary schools. ". . . [T]he real but hidden story is that in this country, we systematically squander the years when our young are, by nature, history sponges. We ignore the opportunity to encourage historically literate, questioning minds," she writes in "It's Elementary: Focusing on History Teaching, K-5".
Among the online journal's other articles: "Why Teach about Federal Finances in Modern U.S. History Courses" by Andrew Yarrow introduces resources for teaching policy, cultural, and economic history in the post-World War II era related to current federal financial issues.
A new Library of Congress blog looks at the history of science, technology, and business.
The Library of Congress (LOC) blog is a wealth of information about history, library resources, and events. Now, the LOC is launching a second blog, Inside Adams: Science, Technology, and Business which takes you inside the 180 miles of shelving in the John Adams Building to explore collections on the history of science and business. According to the blog's authors, the words of John Adams set a fitting course for their content. "Let us tenderly and kindly cherish, therefore, the means of knowledge. Let us dare to read, think, speak, and write." (The Works of John Adams, v.3: pg. 462)
Summer Workshops, Seminars, and Institutes
More than 1,000 teachers usually attend the Gilder Lehrman Institute summer seminars. The 2012 Summer Seminars for Teachers cover 39 topics designed to deepen teachers' knowledge of American history. Gilder Lehrman Summer Seminars bring teachers into contact with top scholars and provide resources and strategies to take back to the classroom. Search this year's complete listing of programs from Early American beginnings through each major chronological era to the present. Applications are electronic with a February 22, 2012 deadline.
There's an earlier deadline than in previous years at the National Endowment for the Humanities.
It's never too early to submit applications to the Summer Institutes of the National Endowment for the Humanities (NEH). Landmarks of American History and Culture Workshops engage teachers in intensive study and discussion of important topics in American history at sites of historical or cultural significance. Summer Seminars and Institutes for School Teachers offer the opportunity to explore a topic or set of readings with a scholar having special interest and expertise in the field. The more than 30 workshops and institutes focus on humanities disciplines from national and global perspectives and include The Abolitionist Movement: Fighting Against Slavery and Racial Injustice from the American Revolution to the Civil War; The Many and the One: Religion, Pluralism, and American History; and Political and Constitutional Theory for Citizens.
Note that the application deadline—March 2, 2010—is two weeks earlier than last year. And, new this year from NEH: up to two seminar spaces and three institute spaces are available for current full-time graduate students who intend to pursue careers in K-12 teaching.
While you're looking at NEH programs, take a peek at the November/December issue of Humanities, the NEH online magazine.