Resources on Native American History
Question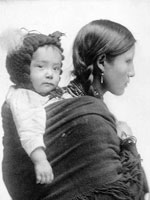 I teach Native American history/studies. . . It is difficult finding curriculum and good lessons for these subjects. I would really like to find a good text book but have not been able to. . . [A]ny ideas or suggestions would be helpful. . .
Answer
There are several textbook-y resources available that we like. Consider the readers in the Bedford Series in History and Culture. Three of these paperback readers address Native American history, including The Cherokee Removal and The World Turned Upside Down: Indian Voices from Early America. Each of the readers begins with an introductory essay that provides an overview narrative of the topic and its historiographical context. Following this essay are selected primary and secondary sources accompanied by orienting background information. Depending on the ages and abilities of your students, these readers can serve as a resource for creating source-based activities and lectures, or for older and more capable students, they can be a kind of textbook. However, be forewarned, if you are working with younger students, you will likely need to further excerpt and prepare many of the provided sources.
For a lengthier survey textbook that is popular and worth investigating, try First Peoples by Colin G. Calloway. Also consider the documentary series, We Shall Remain, a recent entry in the excellent PBS series, The American Experience. You can find teaching activities and full episodes on the series' companion website. Also see this blog for links related to this series. All of these resources can help you craft lessons that emphasize both the diversity of Native Americans and the fact that they are still with us today—two ideas that challenge many students' misconceptions about this topic.