Teaching Imperialism: Incorporating Learning Activities and State Standards
Question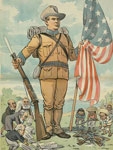 I am a pre-service teacher in seventh grade social studies classroom in Arizona with struggling readers. I have never created a Unit Plan, and I am told by my instructors and mentor that I am unable to incorporate all of the State Standards for Imperialism and leading up to WWI into a unit. How do I as a teacher sort through Performance Objectives and decide what to cut out and what not to? Also, where can I find resources for activities for my students?
Answer
There are many factors to consider when planning instruction. It is great to see that you have your students in mind, as they are central to this process. Knowing your students' range of skills and interests should help you select and prepare materials and design instruction and assessments.
When developing a unit of study, begin with determining what you want your students to know and be able to do. What are the key concepts, main ideas, and essential content related to 19th century imperialism? What are the skills students should develop? What central questions can help you organize these skills and content? How will you assess student learning? Some of this approach to unit planning, you may recognize as "backwards planning", Grant Wiggins' useful approach.
Arizona's state standards can help you get started in making these decisions. The four 7th grade performance objectives provide the following topics for study:
the causes of European imperialism;
the impact of European imperialism around the world;
the rise of Japan as an industrial power;
and the expansion of American foreign policy at the beginning of the twentieth century.
The standards also provide some guiding details to begin formulating objectives. These include:
a list of three primary causes of European imperialism, and details about:
the impact of imperialism in Africa, India, China;
America's involvement in the Spanish-American War;
the Boxer Rebellion;
the Panama Canal, and
the annexation of Hawaii.
It is better to choose fewer topics and to study them in depth, than simply cover all the material in a short period of time.
Arizona's standards document can also help determine the types of skills you might focus on in this unit—for example, analyzing cause and effect, considering the reliability of primary sources, describing multiple perspectives on the same historical event, interpreting historical data, and constructing time-lines, charts, graphs, and narratives using historical data and evidence.
Wow, that is a lot! Your instructors seem to be on target with the idea that you will have to pick and choose your focus and content. It is better to choose fewer topics and to study them in depth, than simply cover all the material in a short period of time. Likewise, it is better to focus on a few skills so students get many opportunities to learn and practice those skills.
How to make these choices?
It is important to develop your own content knowledge in order to develop unit objectives. Expanding your own understanding of imperialism will help you prioritize which standards to focus on. Several on-line sources can help with this process. World History for Us All, for example, includes an excellent overview of Industrialization and Imperialism in its introduction to Big Era 7.
The American Historical Association provides a teaching module on imperialism with essential questions, concepts, events, people and links to primary source materials
Create assessments to help you make these difficult choices. Following a backwards design approach, after you have determined objectives, consider how students will demonstrate what you want them to learn. The skills described in the Arizona standards provide some suggestions here. Further, creating a final assessment for the unit, as well as formative assessments that are aligned with the unit objectives will help you organize instruction and stay focused on student learning. For the final assessment, students could write an essay in response to a central question that demands that they use the unit's concepts and texts to make an argument. For formative assessments, think mini-quizzes, exit slips, free-writes, and homework assignments.
Working with struggling readers should not preclude using an array of thought provoking documents and activities.
Create a unit calendar once you have selected objectives and assessments. This is an iterative process that will include several drafts. Begin by organizing your learning objectives and assessments by days of instruction. To guide this work, consider how learning objectives relate and build off of each other. You can then fill out the calendar with materials and instructional activities. There are several places you can search on-line for primary documents related to imperialism. The Modern History Sourcebook's imperialism page is a good place to get started. Consider a variety of approaches when developing lesson plans—for example, lectures, timeline activities, "opening up the textbook," analyzing primary documents, historical inquiry, perhaps a structured academic controversy—and make sure your lessons clearly relate to the unit's objectives. The National History Education Clearinghouse's "Best Practices" tab contains helpful suggestions for each of these strategies.
When developing instructional strategies and materials, it is crucial to keep the interests and skills of your students in mind. Working with struggling readers should not preclude using an array of thought provoking documents and activities. These materials, however, need careful structuring and scaffolds; moreover, you will need to excerpt documents strategically and, in some instances, modify them so that they are accessible to the students in your classroom. For suggestions on adapting primary documents, see this NHEC teaching guide. The Historical Thinking Matters module on the Spanish American War provides a good example of using modified documents and structuring historical inquiry. See also, the Stanford History Education Group's lessons on American Imperialism.
Finally, there are several units on imperialism posted on-line. Be wary as the quality of these materials varies wildly. However, you might check out the Age of Imperialism unit posted by the University of South Florida as a reference, for it includes many elements of unit design described here.
Good luck!