Sifting for Sources
Question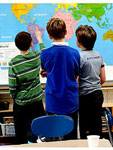 I am introducing second graders to primary and secondary resources. Where can I find videos and activities on that level?
Answer
It's exciting that you are engaging your second graders in historical source analysis! I encourage you not to worry too much about making distinctions between types of sources at this age, as teaching critical reading of all texts is the most important goal. The primary versus secondary issue might be distracting. For lessons and resources to engage your second graders in historical analysis, you may wish to start on the Bringing History Home (BHH) website. BHH lesson plans engage children in history as interpretive and evidence-based. The lessons center on five skills for doing history:
Reading accounts for historical context (BHH uses a great deal of historical fiction).
Analyzing original sources.
Constructing timelines.
Mapping historic events and trends.
Synthesizing to create historic accounts.
The BHH 2nd-grade unit topics are U.S. immigration and environmental history. Each of the classroom-tested units focuses on engaging students in analyzing and synthesizing multiple accounts and has a variety of activities for introducing historical concepts, events, and perspectives. The project website provides free lesson plans and public domain primary sources. The only purchases necessary to implement the curriculum are the trade books used in the lessons. These may be purchased from online bookstores.
Where to go?
If you are eager to search for primary and secondary sources, but unsure how to find them—or simply require inspiration in order to utilize sources once you locate them—try visiting some of the following sites.
Teachinghistory.org is also a treasure trove for resources:
See this set of resources about primary and secondary sources.
Visit this post to learn about what constitutes a primary source, as well as this one on secondary sources.
Learn effective methods to analyze and annotate primary and secondary sources by clicking here.
Before you decide to use any online resource, I encourage you to scrutinize it carefully for perspective and integrity. Catherine Denial, Assistant Professor of History at Knox College in Galesburg, IL, wrote a brief guide for analyzing websites. For your purposes, sometimes you will find a site that does not meet criteria for integrity but it will include links to sites that do. It's fine to take advantage of this scenario.
Using common sense and careful analysis as you prowl the web, you will find excellent resources to engage your second graders in history.