At a Glance
Teacher Review
Yasmin Jones
lpr_yasmin.mov
Play video
Topics
Slavery and Abolition
Website
Features
Focus on historical thinking, Further resources for teaching this content, Inclusion of multiple perspectives, Multiple Sources, Scaffolding of close analysis of text
Download
A Look at Slavery through Posters and Broadsides
Using historic posters, this lesson engages students in analyzing primary sources by identifying their author, intended audience, date, and message.
Review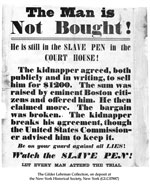 This well-planned lesson, which uses posters on slavery and abolition, teaches students to ask important questions as they read a primary source. First, the teacher models the task by analyzing a representative poster in front of the classroom. In small groups, students then analyze additional posters, locating such information as author, audience, purpose, and message. They use this information to consider the attitudes towards slavery that the posters convey.
One strength of the lesson is that the primary sources are given in two formats: students receive historically evocative reproductions of the original posters along with easy-to-read typed transcriptions. Some teachers may choose to highlight important text, particularly for beginning readers; other teachers will want to leave it up to students to locate and identify this crucial information.
This lesson appears in the December 2004 issue of History Now, a quarterly journal of the Gilder Lehrman Institute of American History.
Notes
This lesson plan includes links to a student worksheet and the lesson's primary sources. Teachers can also access a map of the 1850s and a list of teacher resources.
Teachinghistory.org Lesson Plan Rubric
Field
Criteria
Comments
Historical Content
Is historically accurate?

Yes Lesson is accurate and up-to-date.

Includes historical background?

No The lesson plan's Teacher Resources section includes links to information about historical context. It's up to teachers, however, to decide how much background students will need.

Requires students to read and write?

Yes In class, all students read, and one student per group records information on a Poster Inquiry Sheet. In the suggested homework assignment, students each write a news story about their assigned poster.

Analytic Thinking
Requires students to analyze or construct interpretations using evidence?

Yes The Poster Inquiry Sheet provides students with a method for identifying and interpreting historical facts.

Requires close reading and attention to source information?

Yes During the modeling and the group work, students learn and practice how to read primary sources.

Scaffolding
Is appropriate for stated audience?

Yes Some language in the posters may be difficult, but teachers can choose to highlight sections of text to reduce the amount or difficulty of necessary reading.

Includes materials and strategies for scaffolding and supporting student thinking?

Yes The teacher's modeling step provides a helpful scaffold, as does the Poster Inquiry Sheet.

Lesson Structure
Includes assessment criteria and strategies that focus on historical understanding?

No Although the lesson plan does not include an assessment rubric, teachers can check in with small groups to assess student learning.

Defines clear learning goals and progresses logically?

Yes The lesson plan helps students to learn about slavery and abolition while providing a method for analyzing primary sources.

Includes clear directions and is realistic in normal classroom settings?

Yes The modeling provided in Steps One, Two, and Three is pedagogically useful. However, reading every single poster before the class may be excessively time-consuming. Teachers may want to discuss just one poster and then go around the classroom to check in with small groups as needed.