At a Glance
Topics
Jewish Immigration
Website
Features
Focus on historical thinking, Further resources for teaching this content, Inclusion of multiple perspectives, Multiple Sources, Opportunity to analyze causation
Download
Divining America: Religion in American History
In this essay, authors Jonathan D. Sarna and Jonathan Golden of Brandeis University explore the impact Jewish immigration had on American history and culture.
Review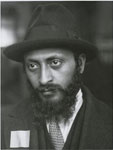 While the story of Jewish immigration to America often begins in the late 1800s, this rich story dates back to the beginning of the nation. We have included this essay in the lesson plan review section because it clearly identifies lesson topics, briefly presents teachers and students with a rich and nuanced overview of Jewish history, and provides resources to further explore the topic. The authors of this essay, Jonathan D. Sarna and Jonathan Golden of Brandeis University, explore how the evolution of Jewish customs and practices in America can be examined under the broad lens of assimilation. One scholarly debate summarized in this essay concerns the role of Old World and New World influences in shaping the distinct Jewish tradition that evolved in America. For teachers wishing to develop a historical inquiry lesson around the topic, this is a useful and flexible framework. In addition to viewing the Jewish experience in America through the broad lens of immigration, this resource also connects the Jewish experience with specific events across American history. One of the additional resources for instance, provides primary documents discussing the roles of Jews during the Civil War. Rather than a ready-to-go lesson, this resource is a great collection of the pieces needed for building lessons: background information, potential topics, inquiry questions, and links to primary sources. While the site links to many promising primary document collections, teachers will need to spend time identifying, selecting and modifying these documents. For additional information on adapting documents look to this guide. Use this essay to organize your thinking about Jewish Immigration or more specifically as the basis for a lecture or overview. For those teachers looking to teach this topic through documents, the essay includes key questions for students to explore using primary sources and links that make great starting points to find documents. And be sure to explore the other essays in this "Divining America: Religion in American History" series that offers more than thirty of these rich essays on key topics.
Notes
In the additional resources included with the essay, the link for "George Washington's reply to the Touro Synagogue letter, Rhode Island, 1790" is broken. The original letter can be accessed here. Washington's response can be found here.
Teachinghistory.org Lesson Plan Rubric
Field
Criteria
Comments
Historical Content
Is historically accurate?

Yes
Extensive bibliography provided.

Includes historical background?

Yes
Centerpiece is rich background essay.

Requires students to read and write?

No

Analytic Thinking
Requires students to analyze or construct interpretations using evidence?

Yes
Includes questions that require interpretation.

Requires close reading and attention to source information?

Yes
However, only yes if students read documents in the "additional resources" section.

Scaffolding
Is appropriate for stated audience?

Yes
Complex history succinctly explained for busy teachers.

Includes materials and strategies for scaffolding and supporting student thinking?

No

Lesson Structure
Includes assessment criteria and strategies that focus on historical understanding?

No

Defines clear learning goals and progresses logically?

No

Includes clear directions and is realistic in normal classroom settings?

Yes
Provides several entry points into a curriculum (e.g. this lesson could be part of a unit on immigration or the Civil War).