At a Glance
What is it?
Group text-messaging tools let teachers and students text without endangering privacy or professional distance.
Group Text-Messaging Tools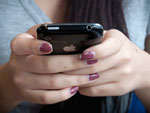 Texting tools designed just for teachers let you send out exit questions, polls, reminders, and more via text message. These tools protect student and teacher privacy, keep conversation records, and make sending out texts to a whole class simple.
Getting Started
There are many group text-messaging tools available, some designed just for teachers and some marketed to business people or the general public. ClassParrot, ClassPager, and Remind101 are examples of tools created with teachers in mind. To sign up for any of these tools, you'll need to provide some information, including your name and email address. As with any online tool, explore the website before registering. Does it look current? Is there contact information for support? Don't sign up for an inactive tool. Also take a look at the features the tool offers. Most group text-messaging tools:
Let you create class accounts that students may subscribe to by texting a unique code to the tool's phone number.
Let you send text messages to one student, multiple students, or an entire class.
Automatically conceal your phone number and your students' when sending and receiving texts.
Keep records of text message conversations.
Tools may offer other features. Some tools will automatically graph student responses to a text, allowing you to use cell phones as Learner Response Systems (also called clickers) for taking polls and surveys. Some keep track of which students have responded to a text and record student response times. Others let you schedule messages ahead of time or add private notes on a student. Choose the one with features that best fit your needs. Will you use the tool to send out reminders of tests and quizzes? To ask exit questions? To check student understanding in class? As a final note—make sure the tool's free plan lets you send enough messages per month, add enough students, and create enough classes to be useful. Some tools have very limited free plans.
Examples
It takes care and planning to make cell phones learning tools, not just distractions. History teacher Greg Kulowiec shares tools and strategies for using cell phones in the classroom—as well as ways to present the idea to administrators. Andy Carvin, of PBS's Learning.now, asks what students can learn from (and lose by) texting.
Instead of setting up an account for your students, you can set up an account for their parents.
Remember that group text-messaging tools are flexible. Instead of setting up an account for your students, you can set up an account for their parents. Parents can sign up to receive reminders about their students' assignments and events, updates on student progress, or other alerts. You can also set up text-messaging groups including peers or coworkers you oversee. Consider the ways you see text messaging used around you, and plan the best way to take advantage of this technology.
For more information
If you aren't allowed to use cell phones as a teaching tool, consider Learning Response Systems, or clickers. While your school will need to purchase these, and they can't be taken out of the classroom, they let your students respond to questions, polls, and even short-answer questions anonymously and silently.
Ready to start exploring the many text-messaging tools available? Richard Byrne's roundup on Free Technology for Teachers is one place to start. Note that several of the tools Byrne suggests are no longer available.