Central Question: Who really did the work in colonial America?
What Textbooks Say
When textbooks discuss colonial labor, they most often refer to male labor outside the physical structure of the home. This work occurred on the farm, in warehouses, and on ships and docks, creating goods to be sold either locally or as part of the "triangle trade," a network of trade routes across the Atlantic Ocean. Women, if mentioned at all, are only given a supporting role, and the labor divisions in Native communities are almost never discussed.
[...] »
What Historians Say
An analysis of the sources highlights the variety of work that made the colonial economy successful, as well as the rigid rules that specified the rights of women, slaves, and indentured servants. The sources also highlight the role of colonial labor as it pertained to international trade, and the importance of even the smallest farm on the trade routes that were so vital to the economic health and viability of the colonies.
[...] »
What Sources Say
By framing labor as a predominantly white male occupation, textbooks are missing the complex history of labor in colonial America. Women were an integral part of the survival of most families, and also contributed to the economy as well. Native communities had divisions of labor, but their labor patterns differed from those of the colonists, and were discounted, affecting how colonists treated Native Americans.
[...] »
Abstract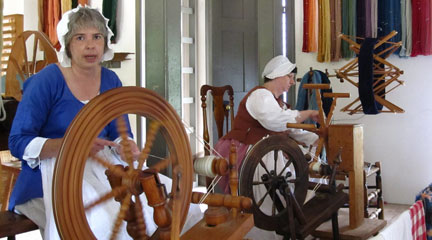 When textbooks discuss colonial labor practices, they most often talk about male work done outside the home. Labor is associated with creating goods for market, allowing men to participate in the "triangle trade"—a network of trade relationships in which raw materials flowed from the Americas to Europe, manufactured goods moved from Europe to Africa, and enslaved Africans were shipped back to the Americas.
This framing, however, misses key topics by:
overlooking female labor as central, not peripheral, to the survival of familial and colonial economies;
ignoring the different patterns of labor that existed in Native communities; and
oversimplifying the complex web of international trade relationships that wove together the Atlantic world.
Read the full essay and explore the sources. »