At a Glance
Description
Examples of early photographs preserve the likenesses of cities, famous figures, and other subjects.
Producer
American Memory, Library of Congress
Daguerreotype Portraits and Views, 1839-1864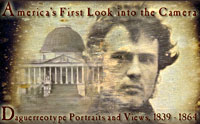 Produced at the Mathew Brady studio, this collection contains more than 725 early photographs, most of them daguerreotypes. The Brady images include portraits of prominent public figures, such as President James K. Polk, Thomas Hart Benton, Thomas Cole, Horace Greeley, and the earliest known images of President Abraham Lincoln and his wife Mary Todd Lincoln.
In addition, the site presents daguerreotypes by African American photographers; architectural views taken around Washington, DC and Baltimore, MD; street scenes of Philadelphia, PA; early portraits by Robert Cornelius; and copies of painted portraits. A short introduction to the daguerreotype medium and a "Timeline of the Daguerrian Era" provide context for the images. A special presentation, "Mirror Images: Daguerreotypes at the Library of Congress," includes photographs from the American Colonization Society, occupational daguerreotypes, portraits, and architectural views. Useful for studying 19th-century photography and visual culture, as well as for viewing some of the earliest American photographs.