At a Glance
Description
Close to 200 photographs document the work of Federal Emergency Relief Administration (FERA).
Producer
University of Washington Libraries
Federal Emergency Relief Administration (FERA) Photographs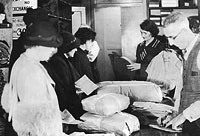 When President Roosevelt created the Federal Emergency Relief Administration (FERA) in May of 1933, the nation was in the throes of the Great Depression. Roughly 15 million Americans were unemployed, many of whom had lost both their livelihoods and their life savings. FERA maintained local relief organizations that created work projects for the unemployed, primarily construction and engineering projects. This collection of close to 200 photographs documents the work of FERA in King County, Washington, which includes Seattle, Tacoma, and Bellevue.
The bulk of photographs depict construction projects for roads, bridges, schools, public buildings, and parks. Workers also appear working on sewing machines as well as at relief centers, the blacksmiths' forge, the furniture factory, and the sheet metal workshop. Together, these photographs shed light on not only the development of King County, but also on important general aspects of the New Deal program they sought to document.