At a Glance
Description
Did you know that adoption was only recognized as a legal U.S. operation in 1851?
Website
Producer
Professor Ellen Herman, University of Oregon
The Adoption History Project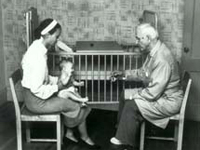 In 1851, Massachusetts passed the first law recognizing adoption as a legal and social operation. Since then, adoption has had a rich history in the United States, documented at this website through close to 200 reports, writings, letters, adoption narratives, and other documents. Users unfamiliar with adoption history might begin by exploring the detailed timeline that traces adoption history from 1851 to 2000, when Congress passed the Child Citizenship Act of 2000 eliminating the process of naturalization for international adoptions. Moving on to the Topics in Adoption History section, with in-depth explanations of orphan trains, proxy adoptions, infertility, child welfare, and eugenics, will help build historical context. The Document Archive and Adoption Science sections boast documents from the late 1800s to the present by notables such as Pearl Buck, adoptees searching for information on their biological parents, and court decisions on adoption throughout the 20th century.