At a Glance
Description
Examine 19th-century domestic life through sheet music and audio song files.
Producer
Library of Congress
Home Sweet Home: Life in 19th-Century Ohio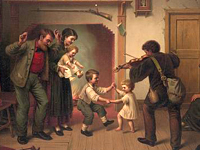 19th-century Cincinnati, OH, an economically prosperous city and a "Gateway to the West," was a microcosm of the changes in domestic life occurring throughout the United States. This website uses music, commonly performed and appreciated in family parlors, to help users better understand these changes, as well as common social, economic, and religious values among Cincinnati's majority population of white Protestants. The 21 songs included are divided by theme: Family Life, Singing Schools, Religion, Rural Values, Temperance, Parlor Music, and Minstrel Songs. "You'll Never Miss the Water Till the Well Runs Dry" exemplifies some of the changes in family life, describing the lessons a young man learned from his mother, and then re-learned later for himself, about forging a successful life on his own.
Sheet music and an audio recording are provided for all songs, which are also accompanied by brief annotations. Two substantive, scholarly essays on "Life in 19th Century Cincinnati and "Understanding the Music," provide historical context. A bibliography and list of related Library of Congress websites provide opportunities for further exploration.