At a Glance
Description
Imagine what it might have been like growing up over 100 years ago.
Producer
James Marten, Marquette University
Children in Urban America: A Digital Archive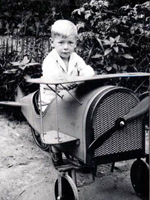 This website offers more than 4,000 primary sources, including newspaper stories, photographs, statistics, oral histories, and personal narratives, related to children and childhood in urban America, specifically in the greater Milwaukee area, from 1850 to 2000. The search page is the most direct route to these sources and is accessible by clicking on the purple kite in the top, right corner of some pages. On other pages, "search entire site" in the footer is the only link. The site is organized around five sections-Work, Play and Leisure, Schooling, Health and Welfare, and "Through Children's Eyes." Each section offers a 150-word introduction, a gallery of five to 40 images, and approximately five "Special Topics" that combine a background essay (300 to 500 words) and a collection of five to ten relevant primary sources. "Special Topics" range from the Socialist Party, religion, and newsboys to National Child Health day and polio in Milwaukee County.
A section for teachers and students offers 25 possible research questions and tips for middle school, high school, and college and cover a host of topics, from games to newspaper coverage of children to the impact of technology on the lives of children. This website is useful for studying childhood and urbanization during a time when what it meant to be a child was changing rapidly.