At a Glance
Description
Explore Harriet Beecher Stowe's Uncle Tom's Cabin as the American cultural phenomenon it was.
Producer
Stephen Railton, University of Virginia
Uncle Tom's Cabin and American Culture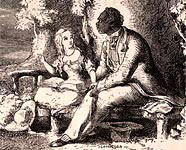 This well-designed, comprehensive website explores Harriet Beecher Stowe's Uncle Tom's Cabin as an American cultural phenomenon. "Pre-Texts, 1830–1852" provides dozens of texts, songs, and images from the various genres Stowe drew upon, including Christian texts, sentimental culture, anti-slavery texts, and minstrel shows. The section on the novel includes Stowe's preface, multiple versions of the text, playable songs from the novel, and Stowe's defense against criticism.
A third section focuses on responses from 1852 to 1930, including 25 reviews, more than 400 articles and notes, as well as nearly 100 responses from African Americans and almost 70 from pro-slavery adherents. "Other Media" explores theatrical and film versions, children's books, songs, poetry, and games. Fifteen interpretive exhibits challenge users to investigate how slavery and race were defined and redefined as well as analyze how various characters assumed a range of political and social meanings.