At a Glance
Description
Explore the early history of America with reproductions of important documents and newspapers.
Website
Archiving Early America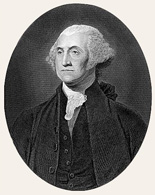 Presents about 50 facsimile reproductions and transcriptions of original documents, newspapers, books, autobiographies, biographies, portraits, and maps from the 18th and early 19th centuries. Examples include the Declaration of Independence, the Jay Treaty, George Washington's journal of his trip to the Ohio Valley, published in the 1754 Maryland Gazette, and 15 contemporary obituaries of well-known figures. Portraits include 24 statesmen and 12 "notable women." The site also furnishes guidelines for deciphering early American documents; seven "short films of noteworthy events," including a 35-minute feature entitled "The Life of George Washington"; four discussion forums; a collection of interactive crossword puzzles; the online journal, The Early America Review; and a news-ticker relating events that occurred "On This Day in Early America." Includes an "Early American Digital Library" from which visitors can view more than 200 digital images from early American engravings of people, places, and events (full-size images are available for purchase). Created by a collector of early Americana.