At a Glance
Description
Learn about Jefferson's political views through this collection of quotations from his writings.
Producer
Eyler Robert Coates, Sr
Thomas Jefferson on Politics and Government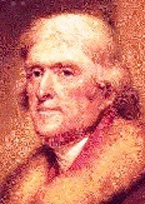 This site provides access to more than 2,700 quotations by Thomas Jefferson. Hosted by the University of Virginia, the site is designed and maintained by an individual admirer of Jefferson. The home page provides a 350-word description of the site, which is divided into six sections and 56 subsections of about 50 quotations each. For each quotation, from five to 100 words, the site provides a date, context, and citation information. Visitors may download a collection of 400 popular Jefferson quotations. Sections range from the "Fundamentals of Government" to the "Prospects of Self-Government." Subsections cover topics such as inalienable rights, foreign relations, and the duties of citizens.
The site may be searched by subject and search terms are highlighted within search results. There are links to 27 archives of Jefferson material, while 11 other links lead to sites about ideas that Jefferson is associated with, such as liberty and human rights. An annotated bibliography includes eight books about Jefferson. This site will be useful for anyone interested in what Jefferson had to say on topics related to government.