At a Glance
Description
Learn about the history of the National Archives as well as how to start your own archives.
Website
Producer
National Archives and Records Administration
Building an Archives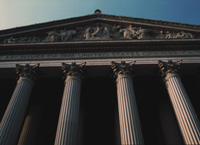 A history of the Washington, DC building that houses the National Archives and Records Administration and information for educators and students to build their own archives. Includes a 1,000-word history of the Archives with more than 20 photographs and links to relevant documents.
The site also offers a description of the architecture and guidelines on "establishing and maintaining a school archives," including notes about technology, student involvement, and items to collect, as well as six titles for further reading.
Includes links to additional Archives sites on the Declaration of Independence, Constitution, and Bill of Rights, and to other primary documents arranged according to a variety of teaching activities.
Provides a practical guide to collecting archival documentation as well as a reasoned rationale: "Developing a school archives provides a valuable service-learning opportunity for students and creates a lasting research tool and legacy from which future students and the archival community can benefit."