At a Glance
Description
Discover the works of songwriting brothers Ira and George Gershwin.
The Official George and Ira Gershwin Website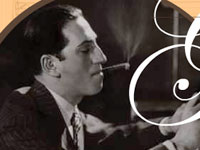 This is essentially a digital tribute to the Gershwin brothers, George and Ira. The site explores their musical and lyrical legacies as one of the most famous songwriting duos in American history. The site features playable audio files of 58 of the Gershwins' best-known songs, performed by artists such as Ella Fitzgerald, Tony Bennett, and Harry Connick, Jr. In the History section, visitors can view a timeline of the brother's lives, complete with photographs, or read detailed profiles (approximately 2,500 words) of both George and Ira, separately and together. An Anthology highlights 10 selected films and 10 shows, while References provides additional resources in print, music, and digital media.