At a Glance
Description
Take a look at the "Constitution State," with approximately 14,000 images depicting Connecticut's history from the 19th through the 20th century.
Website
Producer
Connecticut Historical Society, University of Connecticut, Mystic Seaport Museum, New Haven Colony Historical Society
Connecticut History Online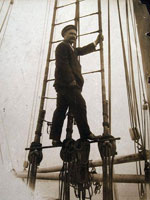 This site is a collaborative effort between the Connecticut Historical Society, the Thomas H. Dodd Research Center at the University of Connecticut, and the Mystic Seaport Museum, funded by a National Leadership Grant from the Institute of Museum and Library Services. It offers approximately 14,000 images depicting Connecticut's history from the beginning of the 19th century to the middle of the 20th century.
The images are divided into categories: "Artifacts," "Manuscripts and Documents," Maps, Charts, and Bird's-eye Views," "Newspapers and Magazines," "Photographs, Prints, and Drawings," "Posters/Broadsides," and "Sound Recordings and Transcripts." Each image includes notes on the creator, date, and place created, medium, repository information, and a brief (40-word) description of the subject. Visitors can search the site by keyword, subject, creator, title, and date.
The site also includes four sample lesson plans for middle school classes comparing and contrasting two Connecticut families and the roles of men and women through exercises interpreting the site's images, a list of ideas for future topics, and themes for secondary-level classrooms. This site is ideal for teachers and students interested in the history of Connecticut and its communities.