At a Glance
Description
Make this your first stop for topics related to Washington state history!
Website
Producer
Washington Secretary of State
Washington History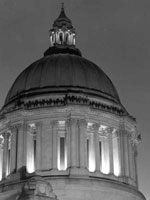 This website offers resources in Washington history through three main sections: historical records research, historical newspapers and classics in Washington history, and presentations. Historical records offers county census records, naturalization records, other miscellaneous records, and genealogical research resources, as well as searches of the state archive records and the state library catalog. The newspapers and classics feature allows visitors to search and view articles from four state newspapers dating back to 1852. Users can search the newspapers by keyword, topic, or personal name. This section also has 91 classic works on Washington history, searchable by keyword, grouped under topics of county and regional history, exploration and early travel, Native Americans, pioneer life, special collections, territorial government, and wagon trails and the Oregon Trail. Individual works can also be searched. (Newspaper articles and classics must be viewed using the DJVU plugin software, available for free download on the site.)
Additionally there is a Corps 33 bibliography of more than 35 works on the Lewis and Clark expedition. There are six presentations that allow visitors to explore Washington's territorial history through an interactive timeline featuring photographs and documents, view documents relating to World War I and profiles of Washington's soldiers, read the history and view historical photographs of cities, counties and corporations, browse a collection of historical maps of the state and the Pacific Northwest, view all 78 pages of the original Washington State Constitution and learn the history surrounding it, and explore the history of elections and voting in the state. The site also offers a collection of 96 images showing the construction and early history of the state's Legislative Building.