At a Glance
Description
Check out player and World Series statistics from the turn of the century.
Producer
American Memory, Library of Congress
Spalding Base Ball Guides, 1889-1939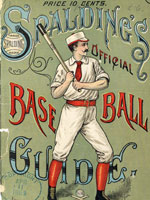 This site features an online selection of Spalding's Official Base Ball Guide (1889–1939) and the Official Indoor Base Ball Guide (1903–1926). The collection reproduces 35 of the guides, which were published by the Spalding Athletic Company in the late 19th and early 20th centuries. The guides featured statistics, photographs, editorials from baseball writers on the state of the game, and analysis of the previous season for all the Major League teams and for many of the so-called minor leagues across the nation.
Highlights include a host of World Series statistics. For example, the 1939 World Series saw attendance of 200,833 in four games. Total receipts totaled $851,168, and each member of the winning New York team received $5,782.76, while members of the runner-up Chicago team received $4,674.86.
Visitors can access the full text of each edition. The collection is searchable by keyword and browsable by title. Of interest to sports historians or historians of leisure or American culture.