At a Glance
Description
View 1,300 pieces of sheet music composed by and about African Americans.
Producer
American Memory, Library of Congress and Brown University
African American Sheet Music, 1850-1920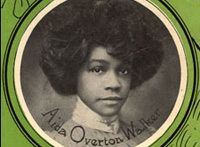 This collection presents 1,305 pieces of sheet music composed by and about African Americans, ranging chronologically from antebellum minstrel shows to early 20th-century African-American musical comedies. Includes works by renowned black composers and lyricists, such as James A. Bland, Will Marion Cook, Paul Laurence Dunbar, Bert Williams, George Walker, Alex Rogers, Jesse A. Shipp, Bob Cole, James Weldon Johnson, J. Rosamond Johnson, James Reese Europe, and Eubie Blake. A "Special Presentation: The Development of an African-American Musical Theatre, 1865-1910" provides a chronological overview that allows users to explore "the emergence of African-American performers and musical troupes, first in blackface minstrelsy, and later at the beginnings of the African-American musical stage in the late 1890s."
In addition, sheet music can be studied to examine racial depictions, both visually, on sheet music covers, and in lyrics; styles of music, such as ragtime, jazz, and spirituals; and a variety of topics of interest to popular audiences, including gender relations, urbanization, and wars. Includes a useful 80-title bibliography and 15-title discography. Much of the material is disturbing due to its heavy dependence on racial caricatures; however, students can gain insight into racial attitudes through an informed use of this site.