At a Glance
Description
Introduce your students to one of America's great masters of horror.
Producer
Maryland Public Television
Knowing Poe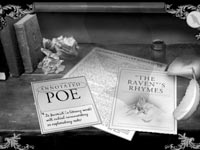 This site provides an interactive and engaging examination of the life and death of Edgar Allan Poe. The interactive "It'll Be the Death of Me" section walks visitors through the various explanations of Poe's mysterious death. It asks the viewer to make choices, and directs them based on the decisions they make. The "Point of View" feature uses Poe's short story "The Cask of Amontillado" to illustrate the effect of point-of-view in literature. Viewers choose to read the story from the point of view of Fortunato, Montresor, or a narrator.
Although this is not an archive of Poe's work, it nonetheless provides access to about a dozen of his stories and 16 primary documents. Many of Poe's writings are annotated on this site, allowing students to compare first, second, and third drafts of "The Lake," or to analyze the rhyme scheme of "The Raven." Another interactive feature allows visitors to examine the melody of Poe's poem, "The Bells." Visitors control the voice of the reader (male or female, emotive or monotonic), add or delete sound effects and background music, and then listen to the creation to see how those factors affect the emotional impact of poetry. "Talking About Poe" allows visitors to leave messages for other users.