At a Glance
Description
Imagine life on the western frontier.
Producer
National Archives and Records Administration
Photographs of the American West, 1861-1912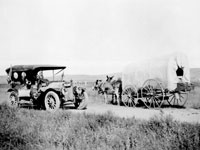 This National Archives and Records Administration site features 196 photographs that document westward migration and the development of America's western frontier. These photographs were drawn from the records of federal bureaus and offices, such as the Bureau of Land Management, Indian Affairs, Weather, Fish and Wildlife Service, Corps of Engineers, and the Forest Service. Featured images, taken between 1861 and 1912, capture special events and everyday life on the frontier, from Native American peoples and villages, to military maneuvers, to laborers and businessmen at work. A 15-25 word caption, the name of the photographer, and date (if available) accompany each photograph. Listings are arranged by subject and chronologically under each subject. An index lists the photographs by state. For those exploring the history of the American West, this is an ideal resource for illustrations.