At a Glance
Description
Explore the life of a major classical conductor.
Producer
The Leonard Bernstein Society
The Official Leonard Bernstein Site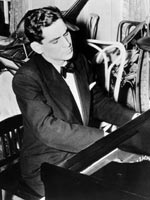 This site is dedicated to the legacy of Leonard Bernstein, one of America's foremost conductors of classical music in the 20th century. The "Life's Works" section consists of the Red Book," a comprehensive listing of his many compositions, a 124-page discography that catalogs 826 of Bernstein's recordings, a 1,500 word biography, and a timeline. In "The Studio," the other main section, there are 13 black-and-white photographs of Bernstein, his family, friends, and colleagues and 24 excerpts of interviews, writings, and speeches of and by Bernstein. Users can also view lyrics of six songs from "A Wonderful Town" and handwritten and typed draft scripts from the "Young Peoples' Concerts."
Highlights of this site are ten personal letters dating from 1943, four telegrams, including one from Humphrey Bogart to Bernstein, and eight images of Bernstein's preliminary notes for various musical and educational projects including an original image of Bernstein's personal copy of Shakespeare's Romeo and Juliet with his annotations in the margin. Users may also view 14 video clips from films and television programs, including seven home videos filmed in the early 1940s and Bernstein's well-known "Norton Lectures" at Harvard. This site is rounded out with a collection of 20 audio clips from the conductor's many recordings. Those with a passion for American music will find that this site has a wealth of information. For the novice, however, its cluttered presentation is difficult to navigate.