At a Glance
Description
How have GLBT lifestyles been portrayed and used by the commercial media?
Website
Producer
Mike Wilke, Commercial Closet Association
The Commercial Closet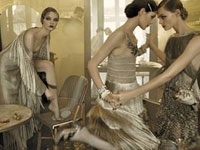 Advertised as "the world's largest collection of gay advertising," this site provides video clips, still photo storyboards, descriptive critiques, and indexing to more than 600 television and print media ad representations of gay men, lesbians, bisexuals, and the transgendered. Users can access ads by year; brand; company; business category; themes; region; agency; target group (gays or mainstream); and portrayals ("what the imagery/narrative conveys about gayness") categorized as vague, neutral, positive, or negative. Although the earliest ad is from 1958, the majority are drawn from the past 10 years. The creator, a business journalist, notes that "the project is also creating a historic document that charts the burlesquing of the gay community, and the move toward more positive and inclusive portrayals." Visitors with an interest in gay history, popular culture, consumer culture, and advertising can do their own charting with the materials provided.