At a Glance
Description
Can't get to Arizona? You can still see local Native American artifacts online.
Website
Producer
Arizona State Museum
Arizona State Museum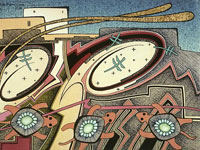 Presenting a virtual alternative to the museum in Tucson, this site allows visitors to experience the indigenous cultures of Arizona and the greater southwest. The Online Exhibitions section offers a plethora of digital programs and resources, including Paths of Life: American Indians of the Southwest, With an Eye on Culture: The Photography of Helga Teiwes, and The Pottery Project: Explore the Arnold and Doris Roland Wall of Pots.
The Paths of Life section features a virtual reality tour of the exhibit that consists of 22 panoramas of the museum space with accompanying text. This presentation enables online visitors to vividly examine the origins, lifestyles, and contemporary lives of 10 Native American Indian tribes from the American Southwest and/or northern Mexico.
The With an Eye on Culture photography exhibit features more than 50 photographs, along with explanatory notes and video footage of interviews with some Native American subjects.
The Pottery Project enables vistors to virtually explore the Arizona State Museum's Wall of Pots. According to the Museum, the primary purpose of this exhibit is to "illustrate continuity and change over nearly two millennia of pottery making in the Southwest." For this reason, the Wall of Pots showcases both protohistoric and contemporary pottery. Visitors can view the collection column by column, and even explore individual shelves.
However, these are just a few examples of the resources complied by the Arizona State Museum. Younger students might enjoy the What Would Frida Wear? section, which allows users to dress a virtual paper doll of the Mexican artist, Frida Kahlo, in indigenous clothing and read about her life. Interested in more games like this? Pop over to the Explore Culture Online page for informative podcasts, videos, reading lists, and a ton of other engaging activities and useful information.