At a Glance
Description
Were the Pilgrims really shorter than us? Discover the answer to all your Thanksgiving queries here!
Producer
Plimoth Plantation
The Pilgrims in American Culture: Thanksgiving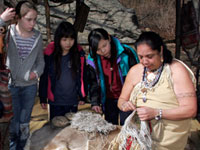 Documenting the colonial experience of settlers in Plimoth, MA, this site contains several brief articles on Puritanism, traditional thanking for harvest, the Wampanoag, the formation of Thanksgiving as a national holiday, Thanksgiving menu regionalism and commonality, and primary source quotations. A major focus of the site is New England Thanksgiving. A somewhat longer article focuses on the menu of the original Thanksgiving. Explore the online activity about What really happened at the First Thanksgiving? that invites you to be the historian and explore multiple perspectives.
A virtual tour of the Plimoth Plantation, which requires a free browser plug-in, allows visitors to observe the grounds as well as historical re-enactors and interpreters. Although the site has relatively few primary sources, the exhibit is useful as an introduction to New England studies.