At a Glance
Description
Travel the Underground Railroad with this interactive website.
Website
Producer
National Geographic
The Underground Railroad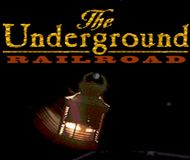 In the 19th century the "Underground Railroad", a secret network of Northern abolitionists, guided hundreds of escaped slaves to Canada and freedom. This creative, interactive site places visitors in the shoes of a Maryland slave pondering escape to Canada in 1850. The visitor is allowed to choose whether to escape or remain enslaved; if they choose to escape they are led into one of the Underground Railroad escape routes through Wilmington, Delaware, and Philadelphia to Rochester, New York, and across Lake Erie into Canada. Along the way they are introduced to several prominent abolitionists such as Harriet Tubman, Quaker businessman Thomas Garrett, and escaped slave Frederick Douglass. Some of the stops along the escape route are accompanied by audio clips of African-American spirituals, bloodhounds in pursuit of escaped slaves, and the sound of a train. The site also includes a map of Underground Railroad routes; a timeline of African slavery in the New World from 1500 to 1865; and portraits and brief (100-word) biographies of 12 major figures in the Underground Railroad, such as Lucretia Mott, John Whittier, and William Still. A link to classroom ideas provides nine class projects for high school students. There are also links to seven related websites and a bibliography of 18 scholarly works. A forum allows visitors to post comments or questions about the Underground Railroad or the website, but because the forum link is not monitored or edited the discussion threads' usefulness is uneven. Though this innovative site contains no primary documents, it is an ideal beginning for students interested in slavery and abolition and for teachers seeking background and classroom project ideas on the Underground Railroad.