At a Glance
Description
Learn about Hispanic culture with the Juan B. Rael collection of upper Rio Grande folk music.
Producer
American Memory, Library of Congress
Hispano Music and Culture from the Northern Rio Grande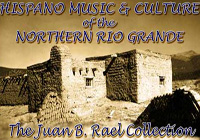 This online presentation of an ethnographic field collection from the Library of Congress American Memory Project documents the religious and secular music of Spanish-speaking people from rural Northern New Mexico and Southern Colorado. It features the audio recordings and transcriptions of over 100 songs that Juan Bautista Rael of Stanford University recorded during a 1940 research trip to the region. Recordings include alabados (hymns), folk dramas, wedding songs, and dance tunes. Descriptive information about the title, performers, genre, instrumentation, location and date of recording, and any other brief (10-25 words) notes about the music accompanies each tune. The collection also includes over 35 pieces of correspondence from Rael about his trip. The site offers a keyword search and is browsable by performers and titles. For persons interested in Spanish American culture, music, and folklife, this site is a good source.