At a Glance
Description
What role have women played in war and the military?
Producer
Jackson Library, The University of North Carolina at Greensboro
Betty H. Carter Women Veterans Historical Project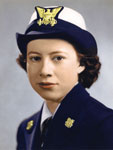 The Betty H. Carter Women Veterans Historical Project provides access to a wide variety of sources related to the role of women in the military. These document the female war experience, how male-female integration has changed the armed forces, and more.
Sources available through this collection include diaries, oral histories, uniforms, military patches, scrapbooks, posters, books or pamphlets, photographs, and letters. The oral histories alone number more than 300, and are available as transcripts.
There are three ways to access the site content. You can either run a keyword search; select a military branch or related organization—Air Force, Army, Coast Guard, Marines, Navy, Red Cross, Cadet Nurse Corps, or foreign and/or civilian; or select a conflict—World War I, World War II, the Korean War, the Vietnam War, Post-Vietnam/1980s, or Gulf War/War on Terrorism. Selecting a branch or conflict will provide a list of the types of sources available, as well as how many of each there are. Select your source type of interest to see the individual items.