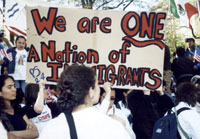 Sun 15 2009
The Electronic Schoolhouse/LaEscuela Electronica developed by the New York State Archives represents a major educational outreach to Spanish-language speakers.
The site focuses on using historical records—primary sources—as learning tools in elementary, middle, and secondary education. There's an English site and a Spanish site; and lesson plans, worksheets, and instructional videos are mirrored in both languages.
Primary source materials remain in their original language, organized by categories. The site enables the teacher to build a worksheet and then to edit and adapt that worksheet, selecting what information is needed to accompany the primary source material. Among seven worksheet options, the teacher might select captions, historical background of the primary source, questions, and resources.
Classroom teachers developed the content to correlate with the New York State Learning Standards with the goal of promoting critical thinking skills, reading and writing skills, and understanding historical content and context.