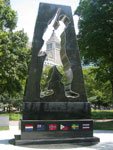 ,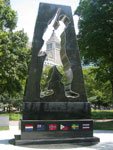 ,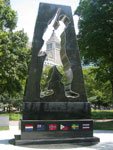 Sun 31 2010
Veterans Day approaches! Last year, Teachinghistory.org introduced you to resources for collecting oral histories from veterans. Most of these resources still hold good—if you're interested in inviting a veteran into your classroom or leading your class in an oral history project, try History.com's Take a Veteran to School Day or the Library of Congress's Veterans History Project.
But what if you don't have the time or resources to arrange a speaker or manage oral history collection? What if your students are too young to appreciate a veteran's stories and their context? How can you honor the holiday and draw your students in?
How about teaching with monuments and memorials?
National Memorials
Everyone knows the Vietnam Veterans National Memorial, with its simple, iconic design, preserving the names of servicemen killed or missing in action. But what about the additions to the memorial? What prompted the creation of the two figural statues, The Three Servicemen and the Vietnam Women's Memorial? If you are far from Washington, D.C., your students can examine photographs (try Flickr Creative Commons for copyright-free images of many major memorials), read about the history of memorials, and draw their own conclusions.
What needs do the different pieces of the memorial fill? What do they say about Vietnam and its veterans? Who designed them? Who chose these designers? Where did the money to build them come from? When were they unveiled? What controversies have surrounded their design? Are there any special observances at these memorials on Veterans Day?
You could also look up other major DC memorials, built to remember very different wars and participants. Try the African American Civil War Memorial, District of Columbia War Memorial, Korean War Veterans Memorial, National Japanese American Memorial to Patriotism During World War II, or the National World War II Memorial.
Local Memorials
Or perhaps you'd like to engage students with material closer to home. Look around your town. Ask at your local historical society. What monuments and memorials does your area have? A memorial for the Civil War? Korean War? Vietnam War? World War II? When were these built? Why might your area have memorials for some wars but not others? Who maintains them? What do area residents think of them? How do they resemble or differ from other memorials to veterans from the same war? How and where is Veterans Day memorialized in your town? Are there any observations at these memorials?
High-school teacher James A. Percoco shares his own experience engaging students with memorials in this video, while 8th-grade teacher Amy Trenkle demonstrates teaching with monuments and memorials in action, in our blog, as she takes her class to visit the Columbus Memorial Fountain in Washington, D.C.
If you can't arrange a field trip to a memorial, but would still like to have students visit and analyze one, try designing an individual field trip (IFT) for students. James A. Percoco tells you how.
Still at a loss for resources? Search our Website Reviews for online exhibits and archives full of primary sources, or our Museums & Historic Sites database for sites in your area.