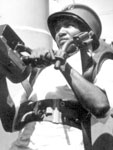 ,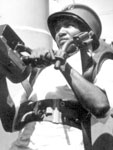 Tue 8 2011
It's February! Resources throughout the web stand ready to provide you with lessons and primary source materials for Black History Month (also known as African American History Month), but African American history stretches far beyond the confines of one month and the narrative litany of a handful of cultural heroes. Maybe you want to go beyond Martin Luther King, Jr., Frederick Douglass, and Jackie Robinson. What stories can you uncover beyond the headlining stories textbooks provide? Remind your students of the complexity of African American history with these resources.
Documenting African American History
Looking for More Suggestions?
If none of these resources fit into your curriculum or spark your interests, there's plenty where they came from. Search our Website Reviews using the topic "African Americans," and you'll turn up close to 300 websites, on topics ranging from Marcus Garvey to the construction of race to Seattle's Black Panthers to sheet music by and about African Americans. Or test your African American history knowledge in our weekly quiz feature! You and your students can take online quizzes on African American baseball players and other athletes, the historical accuracy of the film Glory, Jim Crow laws, and foodways.
You can also explore the African American History Month pages of history and educational organizations, including: