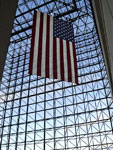 Thu 17 2011
Happy (almost) Presidents Day! Have your ever thought about all of the papers a presidency must create? Emails, memoranda, schedules, notes, speeches, letters, drafts, on and on and on, an entire term (or terms) set down in a sea of potential primary sources. But how can educators access this wealth of materials?
In many cases, all you have to do is go online. Before the 20th century, presidents had ownership of their papers, and many were lost to time or split up in private collections. However, in 1939, President Franklin D. Roosevelt decided that his papers should become the property of the American people following his presidency. He donated both his papers and part of his Hyde Park estate to the government, and the first presidential library was born.
In 1955, the Presidential Libraries Act set rules for gifting the government with property and other resources to be used to establish the libraries, and in 1978, the Presidential Records Act made it official—presidential papers were government property.
Today, 13 presidential libraries house the papers of the last 13 presidents. The National Archives and Records Administration, which oversees the libraries, describes them as combination archive-museums, "bringing together in one place the documents and artifacts of a President and his administration and presenting them to the public for study and discussion without regard for political considerations or affiliation."
Presidential Libraries Online
Each of the libraries maintains its own website. Though the resources available on each vary greatly, almost all provide biographical information on the president and first lady, student and educator sections, and a selection of digitized photographs and documents. Some have extensive searchable databases full of documents, photos, and other primary sources! Here's a list of the libraries:
Remember that many of the presidential libraries offer museum tours and activities for school groups! If your school is close to one, consider a field trip or participating in the professional development opportunities the library may offer.
Beyond the Libraries
Looking for resources on a pre-Hoover president? Several libraries exist outside of the official presidential library system, including the Abraham Lincoln Presidential Library and Museum, Rutherford B. Hayes Presidential Center, William McKinley Presidential Library and Museum, Woodrow Wilson Presidential Library and Museum, and the Calvin Coolidge Presidential Library and Museum. Try the Library of Congress's American Memory collections, as well, for papers that belonged to Abraham Lincoln, Thomas Jefferson, and James Madison.