Teaching with Lectures and Documents
Question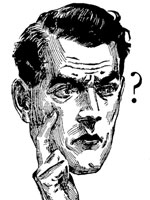 How do I mix document-based teaching with lecture-style teaching to try to make sure the students learn the entire curriculum?
Answer
Using a variety of instructional strategies in your classroom makes good sense.
Ideally, your choice of strategy is guided by your instructional purposes, the particular content you are teaching, and your students' abilities, interests, and knowledge. And while some may see document-based teaching and lecturing as antithetical, we see many ways they can be complementary.
First consider timing.
Do you want to start a new unit by engaging students with investigating a relevant historical question through a document-based activity? As students try to answer a narrowly framed question like did Pocahontas rescue John Smith? they can generate more questions about the broader context of the event. This need to know leads nicely into a lecture.
Conversely, it may be that you want to start a new unit with a lecture reviewing prior units and introducing important background knowledge that can help students when they start analyzing documents.
If you can prepare a lecture on a topic that you know will be needed in the unit, you can even put it into your back pocket and use it as needed.
Second, consider type of lecture.
While we frequently think of lectures as straight delivery of information, lectures are more flexible than this. Consider these variations:
A lecture that begins with and then takes off from the analysis of a primary source;

A lecture that ends with a question that frames subsequent document-based activities;

A lecture that responds to student questions that arise from these same activities;

A lecture that models the use of sources in historical argument through using them as guideposts throughout its entirety.
Third, consider how varied instructional activities complement, reinforce and extend each other throughout the unit.
Do students have the chance to use what they have learned? Do they need further support or practice with new content or skills? Does an activity connect to the central learning goals for the unit or course?
Fourth, you may want to look at this research brief for an account of how one experienced teacher used both lecture and document-based activities.
Your question asks about how you can help students learn the entire curriculum. This is the real challenge that we have no short or easy answer for, but both these instructional strategies can be helpful in meeting that challenge.