Performance Assessments Requiring Historical Analysis
Question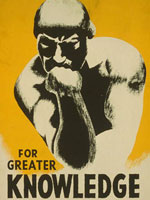 A group of schools are working on common performance assessments, defined as a question requiring a written response in which the student must apply skills of historical analysis to answer the question. (i.e. More than directed writing response.) We are looking for exemplars of such items. Can you direct us to some?
Answer
A great place to start is Oakland Unified's History and Social Studies page, specifically the left column on the page. The site offers historical questions with assessments and support materials designed to improve historical reading, writing, and thinking. Examples available were designed for the 8th and 11th grades, but the concepts can be applied to any age group.
Another place to look for performance assessments that focus on historical analysis is the College Board's website. Their "Sample Questions and Scoring Guidelines" page has free response questions—"Document Based Questions"—and scoring guidelines dating back for the past several AP US History exams.
The thematic essay from the New York Regents exam is also worth a look. It's a good example of a written assessment that asks students to apply the skills of historical analysis, and the "United States History and Government" page has tests from the past several years. The page includes a scoring key and rating guide that specifically looks at the thematic essay, and which includes a wide selection of student responses.
. . . a number of lessons available online, which include evaluation rubrics and examples of student work.
Benchmarks of Historical Thinking, a Canadian website, is also a good resource. They have a number of lessons available online, which include evaluation rubrics and examples of student work. This example, for instance, is an assignment that asks students to write a letter to a Holocaust survivor and includes attachments, such as the task description at the bottom of the page.
Historical Thinking Matters also has tasks and examples of student work. Their "Teacher Materials and Strategies" page gives you access to four thematic topics, each of which has examples of student responses to historical prompts that ask them to use primary sources as evidence. Two examples of student work for each topic, like this essay and this essay about the Spanish-American War, or like this essay and this essay about the Scopes trial, are also useful tools.
UPDATE (Oct. 26, 2012): Be sure to check out the Stanford History Education Group's Beyond the Bubble, a user-friendly site where you can find shorter assessments, interactive rubrics, examples of student work, and a video about how to construct your own.