At a Glance
Website
Features
Focus on historical thinking, Inclusion of multiple perspectives, Multiple Sources, Useful for differentiating instruction
Duration
3-4 Class Sessions
Grade(s)
8, 9, 10, 11, 12
Download
Labor Unions in the Cotton Mills
Students listen to excerpts of oral histories from former cotton mill workers, who discuss their reasons for joining (or not joining) the labor union. Students discuss these sources, and take a stand for or against joining the labor union in early 20th century cotton mills.
Review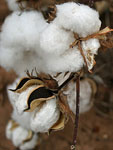 In this lesson, students use oral histories to consider workers' motivations (and reluctances) about joining labor unions in the cotton mills of North and South Carolina in the early 20th century. The website provides both audio recordings and transcripts of the oral history excerpts, allowing students multiple access points to the content.
The lesson introduces oral history as primary source and can be used to help structure class activities where students will gather oral histories. The website provides additional ideas for using these primary sources in an online guide to oral histories in the classroom. The brief excerpts (and accompanying background information) included here present challenges faced by cotton mill laborers, as well as concerns over the possible consequences of unionization. Peoples' reasons both for and against union involvement are included. In this way the lesson illustrates contrasting perceptions on unionization and the necessity to look for varied perspectives when conducting historical research.
Students, in groups, write a speech about the merits of joining (or not joining) the union. We suggest that teachers be explicit that this speech be composed as if addressing this early 20th-century audience, and ensure that students have sufficient background knowledge about the specific historical circumstances to construct a realistic speech. Asking students to consider how similar or different the stated concerns are to those of modern-day workers confronted with a similar choice may help with illuminating historical context, as will additional background information. Teachers could also add a "context checker" to group roles to ensure this is taken into account.
The short, contrasting oral history excerpts included make this lesson a good way to introduce oral history and show its usefulness to understanding the past as well as to learning more about the labor movement.
Notes
Teachinghistory.org Lesson Plan Rubric
Field
Criteria
Comments
Historical Content
Is historically accurate?

Yes

Includes historical background?

Yes
In addition to background information on the subjects of the oral histories included on the right-hand column of the lesson page, the site also includes additional helpful resources (under "related topics") on cotton mills and labor unions.

Requires students to read and write?

Yes
Written transcripts are provided for the oral histories, and students are asked to write speeches defending or opposing unionization in the cotton mills.

Analytic Thinking
Requires students to analyze or construct interpretations using evidence?

Yes

Requires close reading and attention to source information?

Yes
Students will need to closely analyze each oral history to identify a worker's reasons for or against joining the union.

Scaffolding
Is appropriate for stated audience?

Yes

Includes materials and strategies for scaffolding and supporting student thinking?

Yes
While discussion questions are included for each document, teachers may want to provide additional support for struggling readers and English Language Learners.

Lesson Structure
Includes assessment criteria and strategies that focus on historical understanding?

No
Although the lesson does not provide specific criteria, teachers can use the persuasive speech at the end of the lesson (Activity 4) as an assessment. Constructing criteria that include attention to historical context is likely necessary.

Defines clear learning goals and progresses logically?

Yes

Includes clear directions and is realistic in normal classroom settings?

Yes