At a Glance
Description
Collects more than 4,000 images from books created in Europe between 1492 and 1825.
Producer
John Carter Brown Library, Brown University
Archive of Early American Images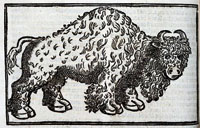 The images in this collection, focusing on the Americas, come from books printed or created in Europe between about 1492 and 1825. Images include woodcuts, copper engravings, and paintings. The database, still being compiled, currently contains 6,685 images and will eventually contain some 7,500 images. Image viewing software is available from the site.
The visitor can browse the entire archive or search by time period, geographical area, keyword, or subject, including indigenous peoples, flora and fauna, artifacts, industry, human activities, geography, maps, city views and plans, and portraits. Some images, such as Ptolemy's map of the world, may be familiar. Others are reproduced for the first time. Navigation requires some practice, but is worth the effort.