At a Glance
Description
Access 59 sound recordings of 1918-1920 speeches by American leaders.
Producer
American Memory, Library of Congress
American Leaders Speak: Recordings from World War I and the 1920 Election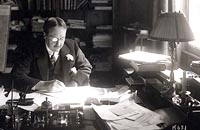 These 59 sound recordings document speeches by American leaders produced from 1918 to 1920 on the Nation's Forum record label. The speeches—by such prominent public figures as Warren G. Harding, James M. Cox, Calvin Coolidge, Franklin D. Roosevelt, Samuel Gompers, Henry Cabot Lodge, John J. Pershing, Will H. Hays, A. Mitchell Palmer, and Rabbi Stephen S. Wise—deal for the most part with issues and events related to World War I and the 1920 presidential election. Additional topics include social unrest, Americanism, bolshevism, taxes, and business practices.
Speeches range from one to five minutes in length. A special presentation, "From War to Normalcy," introduces the collection with representative recordings, including Harding's famous pronouncement that Americans need "not nostrums but normalcy." This site includes photographs of speakers and of the actual recording disk labels, as well as text versions of the speeches.