At a Glance
Description
Archives more than 7,000 newspaper and magazine advertisements printed in the U.S. from 1911 to 1955.
Producer
Digital Scriptorium, Duke University
Ad*Access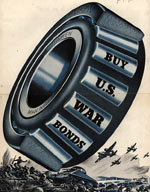 Images of more than 7,000 advertisements printed primarily in newspapers and magazines in the United States from 1911 to 1955 appear on this well-developed site. The material is drawn from a collection of one of the oldest and largest advertising agencies, the J. Walter Thompson Company.
Advertisements are divided into five main subjects areas: Radio (including radios, radio parts, and programs); television (including television sets and programs); transportation (including airlines, rental cars, buses, trains, and ships); beauty and hygiene (including cosmetics, soaps, and shaving supplies); and World War II (U.S. Government-related, such as V-mail and bond drives). Ads are searchable by keyword, type of illustration, and special features. A timeline from 1915 to 1955 provides general context. "About Ad Access" furnishes an overview of advertising history, as well as a bibliography and list of advertising repositories.