At a Glance
Description
Covers Congressional documents from the nation's founding through early Reconstruction.
Producer
American Memory, Library of Congress
Century of Lawmaking: Congressional Documents and Debates, 1774-1873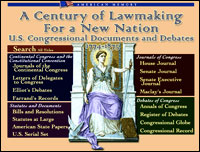 This comprehensive set of Congressional documents covers the nation's founding through early Reconstruction. Materials are organized into four categories: Continental Congress and the Constitutional Convention; Statutes and Documents; Journals of Congress; and Debates of Congress. The site provides descriptions of 16 types of documents, including bills and resolutions, American State Papers, the U.S. Serial Set, Journals of the Continental Congress, the Congressional Globe, and the Congressional Record.
A presentation addresses the making of the Constitution that introduced an 1834 compilation of Congressional debates and proceedings and a timeline presents American history as seen in Congressional documents. Special attention is directed to Revolutionary diplomatic correspondence, Indian land cessions, the Louisiana Purchase, the Journal of the Congress of the Confederate States of America, 1861–1865, the impeachment of Andrew Johnson, and the electoral college.