At a Glance
Description
Explore sources from the mid-18th-to-early-19th-century European migration into the Ohio River Valley.
Producer
American Memory, Library of Congress; University of Chicago Library; and Filson Historical Society
First American West: The Ohio River Valley, 1750-1820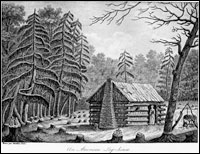 Significant European migration into the Ohio River Valley occurred from the mid-18th century to the early 19th century and this website presents approximately 15,000 pages of related materials. Resources include books, pamphlets, newspapers, periodicals, journals, letters, legal documents, images, maps, and ledgers. The site includes a special presentation with a 6,500-word essay on contested lands, peoples and migration, empires and politics, Western life and culture, and the construction of a Western past.
Materials address encounters between Europeans and native peoples, the lives of African American slaves, the role of institutions such as churches and schools, the position of women, the thoughts of naturalists and other scientists, and activities of the migrants, including travel, land acquisition, planting, navigation of rivers, and trade. These are valuable resources for studying early American history, cross-cultural encounters, frontier history, and the construction of the nation's past.