At a Glance
Description
How many female lawyers can you think of in U.S. history?
Producer
Barbara Babcock, Stanford University Law School
Woman's Legal History Biography Project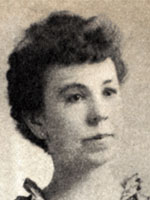 The three sections of this website focus on women lawyers in the U.S. and women's legal history. The Women's Lawyers Index offers more than 700 listings of female lawyers in U.S. history, each with links to biographical information, collected papers and archival material (if available), and articles, as well as a bibliography. The content of these sections is uneven, though, some having far more entries than others.
The Clara Shortridge Foltz section primarily consists of 13 articles by Babcock on Foltz, the first female lawyer on the Pacific Coast. It focuses on the relation of early women lawyers to suffrage and other reform movements.
"Research Resources" provides 23 links to other websites on women lawyers and women's legal history, as well as over 50 links to historiographical articles, articles from periodicals and legal journals, and general interest articles. A bibliography lists 38 books and 18 articles dealing with women's legal history. This site is a useful launching point for researching female lawyers and women's legal history.