At a Glance
Description
Listen to clips from more than 100,000 recordings of Mexican American vernacular music.
Producer
Arhoolie Foundation, UCLA Chicano Studies Research Center, UCLA Music Library & Digital Library Program, Los Tigres del Norte Foundation
Frontera Collection of Mexican American Music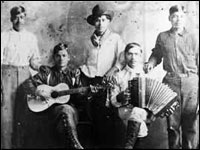 This collection of commercially produced Mexican American vernacular music is the largest of its kind, with more than 100,000 recordings. The music, originally published between 1905 and the 1990s, is primarily in Spanish. This website presents digitized versions of roughly 30,000 recordings. The music ranges widely in style and includes lyric songs, canciones, boleros, rancheras, sones, instrumental music, and the first recordings of norte and conjunto music, as well as politically motivated speeches and comedy skits.
A browseable list of subjects shows that love (unrequited love, adultery, regrets), war (Korean War, Mexican Revolution, World War I and II), and praise (of country, guitar, mother) are common themes in the collection. Unfortunately, the songs are available to the general public only in 50-second sound clips. Users interested in gaining full access to a select group of songs for research are encouraged to contact the website's administrators.