At a Glance
Description
Learn more about Emma Goldman, radical and feminist activist, through this collection of primary and secondary sources.
Producer
Berkeley Digital Library SunSITE
Emma Goldman Papers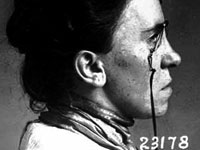 Emma Goldman (1869–1940) was a major figure in the radical and feminist movements in the United States prior to her deportation in 1919. This collection of primary resources includes selections from four books by Goldman as well as 18 published essays and pamphlets, four speeches, 49 letters, and five newspaper accounts of Goldman's activities.
There are also nearly 40 photographs, illustrations, and facsimiles of documents. Additional items include two biographical exhibitions, selections from a published guide of documentary sources, and four sample documents from the book edition of her papers. A curriculum for students is designed to aid the study of freedom of expression, women's rights, anti-militarism, and social change. The site offers essays on the project's history and bibliographic references as well as links to other websites.