At a Glance
Description
Visual depictions of post-industrial urban decay in California and New Jersey.
Website
Producer
Rutgers University
Invincible Cities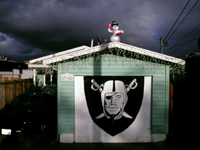 This site offers two exhibits featuring the photography of Camilo Jose Vergara that document decay and renewal in the "post-industrial" cities of Camden, NJ, and Richmond, CA, since the 1970s. The collection of more than 450 photographs explores the transformation of these cities' urban landscapes through the erosion of their "late 19th and early 20th-century architectural grandeur" through "their subsequent neglect and abandonment" to "scattered efforts at renewal." The site has an essay by Vergara that explains his work and introduces the two collections. The Camden exhibit has a large collection of photographs, organized into 24 themed galleries, and an introductory essay by Howard Gillette placing the photographs in a historical context. The Richmond exhibit is somewhat smaller, with 10 themed galleries.
The collection of photographs can be browsed by theme or by using the site's interactive city maps. Some of the themes are geographic; some are tours surveying an area of the city. Other themes group images sharing similar characteristics such as post-industrial, churches, and people. Additionally, some of the images are linked to views of the subject at different periods to show change over time. The site also has a feature allowing visitors to post comments on the photographs. This site is of interest to anyone researching urban history in the 20th century or these two cities specifically.