At a Glance
Description
An extensive glimpse into slave life and the history of slavery in the United States.
Slavery and the Making of America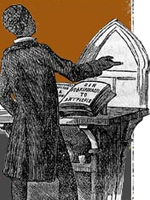 This extensive companion to the PBS documentary of the same name provides interpretive and primary material on the history of African-Americans during slavery and Reconstruction, including essays, personal narratives, original documents, historical readings, and lesson plans. The "Time and Place" chronology of slavery and Reconstruction places the main events of U.S. history relating to African Americans between 1619 and 1881 in their historical context. "Slave Memories" allows visitors to hear the voices of African Americans recorded by the Works Progress Administration (WPA) on their experiences in slavery and Reconstruction. "Resources" includes 17 print resources, 23 books for children, and 30 websites related to slavery. "Slave Experience" allows users to explore slave life through the themes of legal rights and government; family; men, women, and gender; living conditions; education, arts, and culture; religion; responses to enslavement; and freedom and emancipation. Each features essays, historical overviews, original documents, and personal narratives.
A K-12 learning section features historical readings of narratives, slave stories and letters, student plays, links to 19 sites with primary sources, and six lesson plans for middle and high school. This website is a valuable resource for teachers as well as an excellent introduction and overview for those with an interest in the history of slavery and slave life in America.